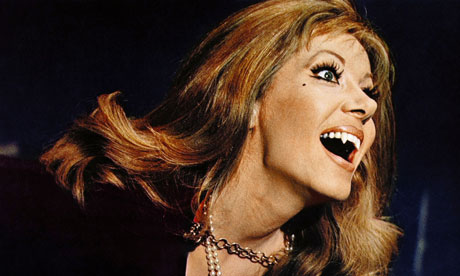 INGRID PITT, a Hammer Films goddess, died on November 23rd, at the age of 73. She belongs in a class with Karen Black and Barbara Steele, old-school horror divas you don't mess with unless you want to be beaten to death with cleavage and eye-fucked harder longer and faster than the TSA could ever imagine.
Along with the aforementioned ladies, Ingrid Pitt was one of the leaders of the emerging sexual revolution in horror films that didn't assume that all women were victims. One of her most famous roles was for Hammer Films as a lesbian vampiress.
It is interesting to note in her obit that she said she dreamed of becoming an actress while spending three years in a Nazi concentration camp.